The Azerbaijan Formula 1 Grand Prix has hosted some exciting races over the past few years.  With a winning strike rate of 33% when starting from pole, the Azerbaijan Formula 1 Grand Prix one of the lowest ranked tracks statistically favouring the pole sitter.  Between turns 5 through to 12 the track is narrow and tight and can catch drivers out, and being a street circuit does not leave much room for error as there are not many runs off areas on the Baku street circuit. If you miss your mark, you're in the wall. The long straight leading into turn one provides an excellent opportunity for overtaking, expect to see the likes of Max Verstappen and Daniel Ricciardo try a few overtaking maneuvers this weekend.
The win may fall into Ferrari's hands this weekend even if they don't qualify on the front row and get their strategy right as the pole sitter historically has a low win strike rate, and there is a high probability that we will see the safety car this weekend.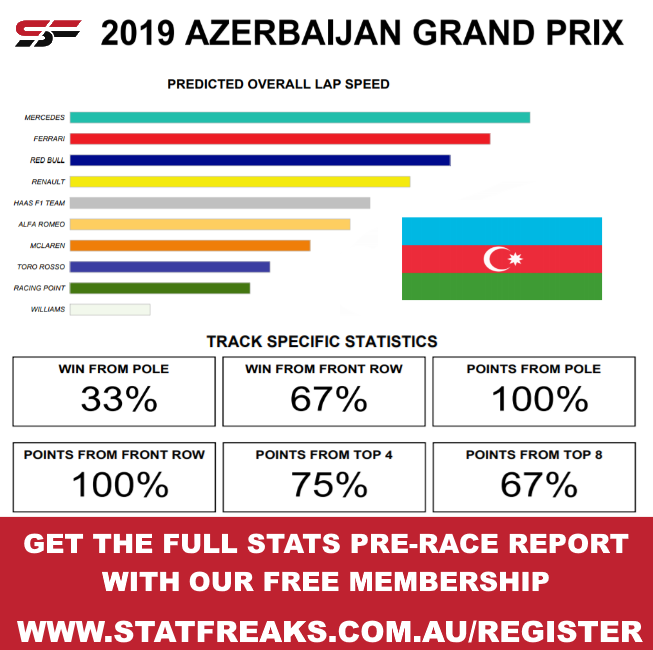 Wins From Pole: Starting from pole in the Azerbaijan Grand Prix has gone on to win the race 33% of the time.
Wins from Front Row: 67% of the time a driver will win starting from the front row.
Points from pole: 100% chance of scoring points.
Points from front Row: 100% of scoring points.
Points from starting in the top 4 grid positions: 75% of scoring points.
Points from starting in the top 8 grid positions: 67% scoring points.
Get the FULL Formula 1 statfreaks rating and statistic report with our free membership.