Teams will need to decide what level of downforce to run at this weekends Canadian Grand Prix. A Higher downforce package will be quicker through sector 1 and 2, but slower in sector 3, a lower downforce setup will be faster in sector 3 down the long straight, but slower in sectors 1 and 2. Mercedes once again will head into the sixth Grand Prix of the season as favourites. Lewis Hamilton loves this track and historically sets his car up very well around here. Each lap, driver's will need to content with the "Wall of champions", occasionally brushing up against it in hope to find that extra tenth.
Ferrari will need to find its Bahrain form to be in contention for the win here. We expect them to be mighty quick down the back straight Redbull needs to play it smart and possibly run a higher downforce package than Mercedes and Ferrari, which may work out well it produces a faster lap time and works the tyres more efficiently.
This race is expected to be an enjoyable one, with plenty of overtaking and drama.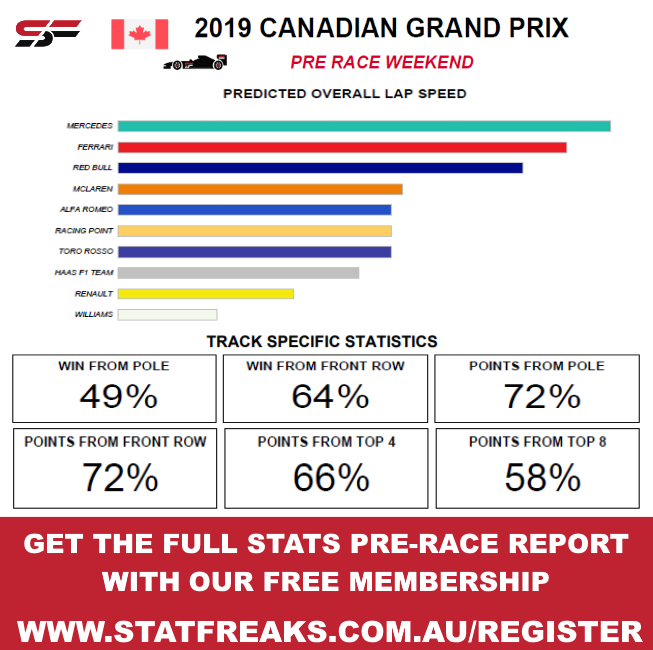 Wins From Pole: Starting from pole in the Canadian Grand Prix wins 49% of the time.
Wins from Front Row: 64% of the time a driver will win starting from the front row.
Points from pole: 72% chance of scoring points.
Points from front Row: 72% of scoring points.
Points from starting in the top 4 grid positions: 66 % of scoring points.
Points from starting in the top 8 grid positions: 58% scoring points.
Get the FULL Formula 1 statfreaks rating and statistic report with our free membership.