After a heated 2019 Candian Grand Prix and many fans left with mixed feelings, we turn our attention to the French Grand Prix located at the Paul Ricard race circuit. Lewis Hamilton dominated last years race and is expected to do so again this weekend. He is in fantastic form, physically and mentally. Ferrari may not be able to keep up with both Mercedes, and there is a high probability one of the red bulls will leapfrog a Ferrari and finish on the podium.
The Paul Ricard circuit has slow and windy corners which will advantage Redbull, Mercedes, Toro Rosso and Mclaren. We expect the Hass team to be competitive. Renault will most likely struggle here as their downforce package is lacking compared to the other mid-pack teams. The forecast looks dry and sunny, perfect for racing and suspect no issues getting temperature into the tyres this weekend.
Mercedes predicted to dominate, Ferrari on the back foot and possibly a Redbull on the podium.
Enjoy.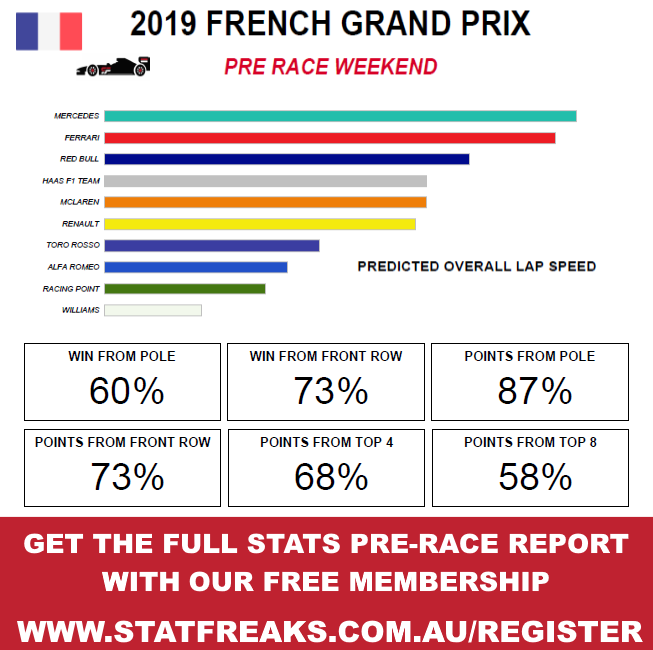 Wins From Pole: Starting from pole in the French Grand Prix wins 60% of the time.
Wins from Front Row: 73% of the time a driver will win starting from the front row.
Points from pole: 87% chance of scoring points.
Points from front Row: 73% of scoring points.
Points from starting in the top 4 grid positions: 68% of scoring points.
Points from starting in the top 8 grid positions: 58% scoring points.
Get the FULL Formula 1 statfreaks rating and statistic report with our free membership.