Moving on from the 2019 British Grand Prix, we arrive at the historical Hockenheim circuit located in Germany. Ferrari is expected to be a lot closer to Mercedes this weekend due to the nature of the track having longer straights. The Ferrari's straight-line speed performance will allow them to gain some sector time which they lose in the slower corners. Lewis Hamilton has won 70% of the race's so far this season, but it closely followed by his teammate in points. Lewis does not have the title wrapped up just yet, and as we have seen in the past, circumstances can change dramatically throughout the season.
The early forecast is predicting rain on both qualifying and race days. If rain arrives during any session, it will mix things up a fair bit. The red bull package performs well in the wet which may bring Max Verstappen into contention for the win.
An exciting 2019 German Grand Prix awaits us. Sit back and enjoy!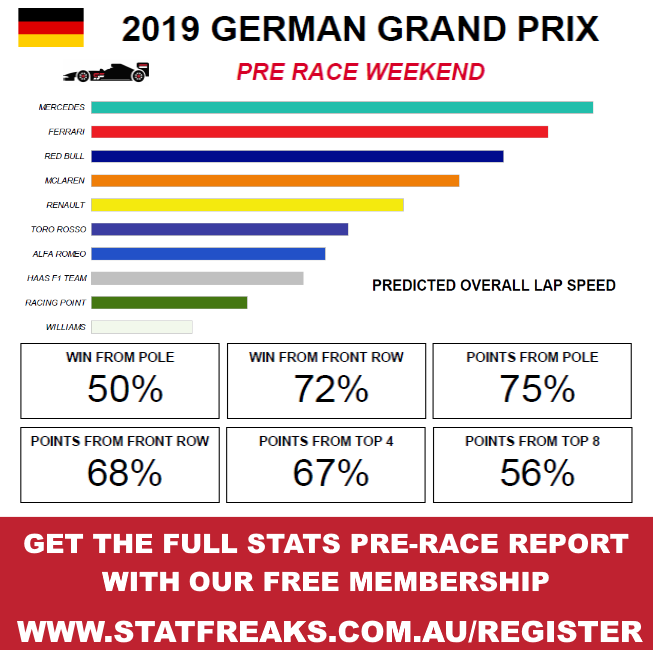 Wins From Pole: Starting from pole wins 50% of the time.
Wins from Front Row: 72% of the time a driver will win starting from the front row.
Points from pole: 75% chance of scoring points.
Points from front Row: 68% of scoring points.
Points from starting in the top 4 grid positions: 67% of scoring points.
Points from starting in the top 8 grid positions: 56% scoring points.
Get the FULL Formula 1 statfreaks rating and statistic report with our free membership.