After a heated and action packed 2019 Austrian Grand Prix, we shift our focus to the historical Formula One British Grand Prix, held at the Silverstone race circuit in Northamptonshire, England.
We are expecting Lewis Hamilton to bounce back after a poor Austrian Grand Prix performance which was due to car cooling issues. It's Lewis Hamilton's home race, and he's mighty quick around here in the dry and wet. Bottis will be right behind him, pushing Lewis to the limit, and both Ferarri drivers will be following closely. We won't know if Ferrari's package is quick around here until practice or qualifying as their car performs differently from track to track. We expect the red bulls to be mighty fast through the high-speed corners and McLaren not too far away.
The early forecast is predicting dry weather and temperatures between 20 and 25 degrees, therefore no cooling issues for any teams. It will be interesting to see which teams can switch the tyres on better than others this weekend.
Mercedes predicted to dominate, Ferrari may surprise if they can find their Canadian Grand Prix and 2019 Austrian Grand Prix form. Redbull in with a chance for a podium.
Enjoy.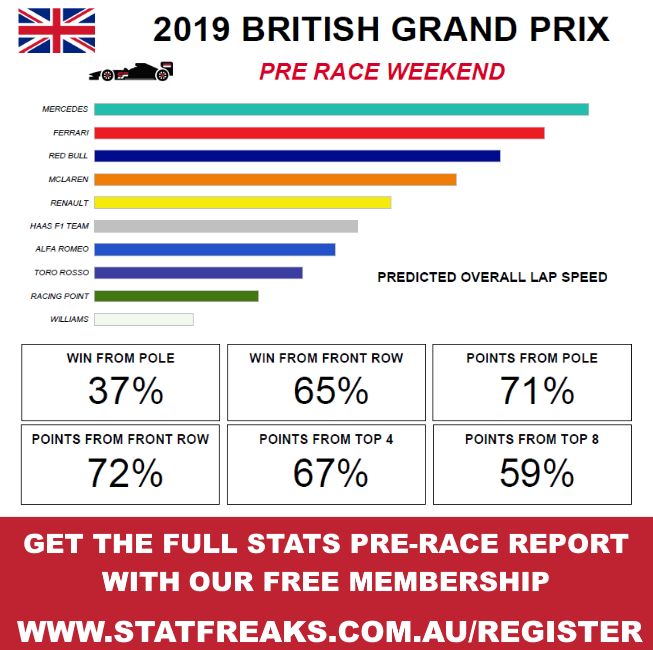 Wins From Pole: Starting from pole in the British Grand Prix wins 37% of the time.
Wins from Front Row: 65% of the time a driver will win starting from the front row.
Points from pole: 71% chance of scoring points.
Points from front Row: 72% of scoring points.
Points from starting in the top 4 grid positions: 67% of scoring points.
Points from starting in the top 8 grid positions: 59% scoring points.
Get the FULL Formula 1 statfreaks rating and statistic report with our free membership.