After a nail-biting 2019 German Grand Prix, we move to the Hungarian Grand Prix held at the Hungaroring in Hungary. We Expect Lewis to bounce back this race and have a fight on his hands with the red bull of Max Verstappen and both Ferrari's. Historically the red bull package has performed well here, and we expect max to be in a position to be fighting for the win. The weather looks dry, and it is difficult to overtake here; therefore, drivers will need to be up the top end of the grid come start of the race for a chance.  Bottas is a chance for the win if he can get his setup right and find his early-season form. We are unsure about Ferrari's pace and won't know if they are in a winning position until their qualifying speed is exposed.  
Teams with packages that work well in slow to mid-speed corners are expected to perform well here, so keep an eye out on the Mercedes and Red Bulls.
Good Luck, enjoy the race.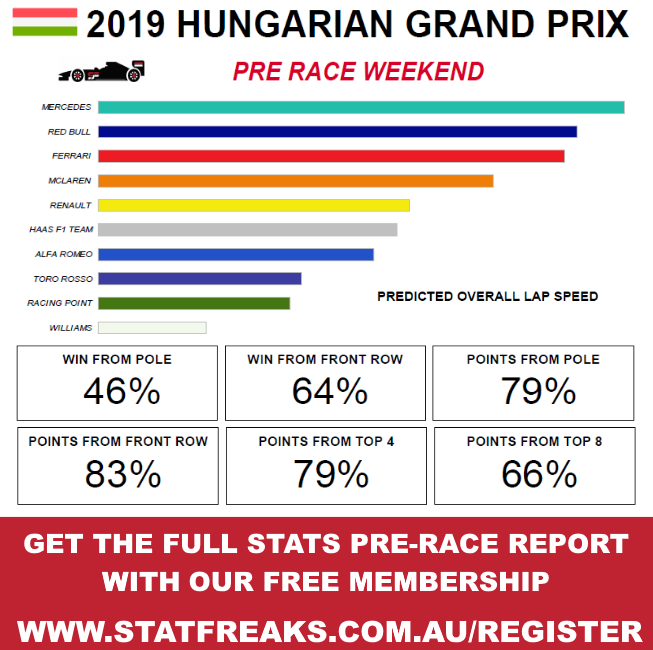 Wins From Pole: Starting from pole wins 46% of the time.
Wins from Front Row: 64% of the time a driver will win starting from the front row.
Points from pole: 79% chance of scoring points.
Points from front Row: 83% of scoring points.
Points from starting in the top 4 grid positions: 79% of scoring points.
Points from starting in the top 8 grid positions: 66% scoring points.
Get the FULL Formula 1 statfreaks rating and statistic report with our free membership.